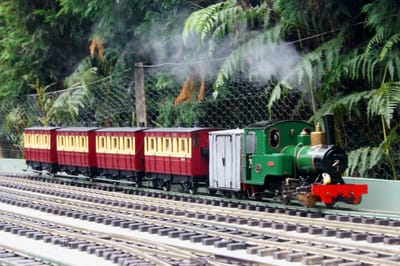 Family budgets are always tight and perhaps starting a garden railway is not top of the list in any family budget. It may well be that putting off the fateful day of starting to build a garden railway has been put further back down the line than was expected.
As a Member of the East Sussex Garden Rail Group of the G scale Society we have held many exhibitions for our Members and the public alike. We now of course have a permanent home.
I was always amazed how young children, both male and female, used to marvel at the sight of trains running around table top layouts berating their parents "Why can't I have one of those?" with the usual response "We can't afford models like that…..".
When I started in G Scale my first starter set came from the local model shop in the City of London they were selling an LGB G-Scale Centenary Edition Train Set (this shows you how old I am!!!) at a cost of £50.00. How could I refuse? So that was the start for me and I still have that set today, it was a 100 year anniversary set from 1881 to 1981.
But like every young man growing up and having a family budgets are tight and it is difficult to build a garden railway as new prices of locomotives and rolling stock seem to go up on a weekly basis.
So how can you build a garden railway at a realistic cost. Obviously there are many methods of laying track in the garden and I don't intend to debate here which is the right or wrong method of construction but rather how do you go about purchasing affordable equipment to make a start.
Obviously, E-bay springs to mind but here you have to be very choosy to obtain the item you require at the right price. I have seen second hand items going for more than the original purchase price and don't forget to add in the cost of postage.
This doesn't mean that E-Bay is always expensive, you just have to be careful and research what you purchase before deciding on your final bid. Have a look and compare some of the prices with an OO/HO engine say from Hornby.
A lot of dealers are now stocking second hand items and here you can make good savings. Buying from a dealer allows you to check the goods before purchase but of course some will provide items via the internet. Don't be afraid to ask questions as you want your purchase to provide you with good service and be sure it is in the condition as it is described. Also look out for dealer "Special Offers" and compare the prices with others.
I was introduced to someone who was selling their entire garden railway. He had already managed to sell quite a lot of it but had a few items left that he thought I might be interested in. He had a LGB Stainz engine and an LGB Box car. With a bit of haggling I purchased both of these for £35.00. Now this may seem very cheap but I took a chance on the engine working properly but when I got it home it ran very well. It was slightly damaged in that one of the boarding handles to the cab was broken and the chimney was very loose. The box car was alright once I had put it in the bath and thoroughly cleaned it. Once dry I changed the box car wheels for a set of metal ones that I had lying around and gave it a drop of oil. This now ran like a new wagon. I was very lucky to purchase these items at the price stated but a good second hand starter engine should be able to be purchased at around £65.00 to £80.00 if you look around.
In addition to the above for those wanting something new then IP Engineering is a good source of very easy to build kits and would have you up and running in no time.
Turning to the engine I stripped out the motor and set about cleaning the carcase. The chimney was damaged in that it would not screw into place but I had in mind just using this locomotive for battery power so I glued the chimney in place, removed the pickups and reassembled the engine.
On the back of the newer Stainz is a socket and if you purchase a plug and lead and just connect it to several batteries it will chug away until they are exhausted. Obviously, there is no speed controller so it needs to be a bit more sophisticated than that.
To cut a long story short as I had spent so little on the engine and box car I invested in a Radio Control outfit which now allows me to run this train on any layout I choose.
Just a couple of examples of engines and stock but what about track to run it on? Again this can be purchased via the internet or a dealer or from a newspaper advertisement or an auction. Again, take your time in choosing the item you want at the price you want to pay. Be patient, if an article you want is too expensive try somewhere else as you will eventually get what you want at the price you are prepared to pay.
All railways appear expensive irrespective of gauge but with patience and a little care it is surprising what you can find out there. There are many methods of propulsion namely analogue, digital, battery, radio control and steam. They all vary in cost from a few pounds to a few thousand pounds but none of this cost precludes anybody from having an enjoyable garden railway.
Being a Member of the G Scale Society has proved invaluable in providing hours of interesting fun but at the same time talking and mixing with like minded people who are always willing to help. Second hand items often change hands and at good prices and information is always provided as to good sources of stock at the right price. You also get a chance to see other member's railways and stock, some of which are spectacular.
This may seem a male dominated hobby but it's not. The G Scale Society Chairman was a woman until recently and, a very efficient one at that, and she has the interests of the Society and hobby at heart, so ladies you are most welcome as well. So if you require any further information please do not hesitate to contact us using the
Contact Page
on this website or
go to the
Society's Membership Application Form on the G Scale Society's Web Site.